An orthopaedic specialist will see you now.
If you have an emergency medical situation that is not an orthopaedic issue, please go to the ER or call 911.
UrgentOrtho, powered by Michigan Orthopaedic Surgeons, provides high quality care when you need it most. With two convenient locations (one near Beaumont Royal Oak and one in Shelby Township), our experts provide same-day orthopaedic services on a walk-in basis and by appointment. To make an appointment, call (833) MOS-DOCS today.
Walk-in care for patients of all ages
Different from the typical urgent care clinic, all services at UrgentOrtho are provided by an on-site orthopaedic specialist who can manage a wider range of injuries, aches and pains in seniors, adults and children ages two and up.
Services include:
On-site X-rays
Splinting of injuries
Non-operative treatment for fractures and dislocations
If you require a follow-up visit, you will have immediate access to our collaborative, multi-disciplinary team – the largest and most comprehensive in Michigan. We're proud to offer seamless care from the initial diagnosis to the final stages of treatment.
UrgentOrtho vs. ER
Orthopaedic injuries can happen unexpectedly. From an ankle sprain at a basketball game to a fracture from a work accident, a wide range of injuries can result in patients going to an emergency room. However, we know what they'll face: long wait times and increased expenses. Plus, ER patients often need to see an orthopaedic specialist for follow-up care.
Urgent orthopaedic care can be a better, more cost-effective option than emergency room care (unless your injury is life-threatening or severe) because you avoid long waits and potential exposure to sick people.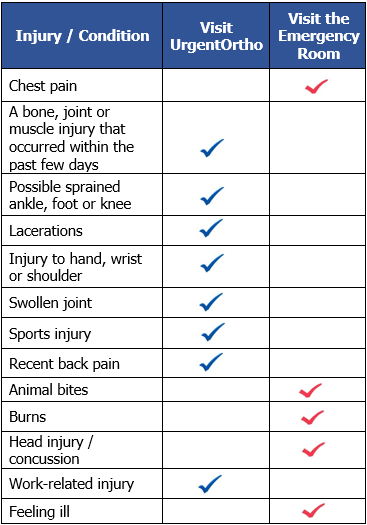 Insurance policy
Please note, it is the patient's responsibility to know and understand their insurance benefits and requirements for any medical procedure. Depending on your insurance carrier, you may be required to obtain a referral from your primary care provider before being seen at UrgentOrtho. In the event you show up at our clinic without a referral, we will ask that you obtain one from your provider within 48 hours post visit. Failure to obtain a referral will result in patient responsibility for all out-of-pocket costs associated with the visit.

Royal Oak
Urgent Ortho
Location:
30575 Woodward Avenue
Royal Oak, MI 48073
Phone: (248) 280-8550
Monday - Friday: 5 to 9 p.m.
Services:
Urgent Orthopaedic Care
Shelby Township
Urgent Ortho
Location:
45816 Schoenherr Road
Shelby Township MI 48315
Phone: (586) 842-2400
Fax: (586) 991-6054
Monday – Friday: 5 to 9 p.m.
Services:
Urgent Orthopaedic Care